Our white linen is available in the following options:
200 thread count polycotton percale – the higher density of yarns gives it a softer, smoother feel. Requires very little ironing.
200 thread count 100 % cotton percale – crisp, soft and smooth! Has a luxurious feel which gets better after each wash.

Percale is a term that refers to the weave of the fabric as opposed to the fiber content. Percale is woven in a plain weave method which has the warp and weft threads intertwined to produce a checkerboard effect on the surface of the fabric. This results in a very strong, medium weight fabric that holds up well in the wash. The thread count of percale is generally around 200. This fabric can be made from 100% cotton or can be a blend of cotton and polyester.

Duvet Covers: Single – super/American king (available with hotel flaps or studs)
Pillow Cases: std and king
(Duvet covers and pillow cases available in Standard and Oxford Style)
Fitted Sheets: single – super king (std, extra length / depth)
Flat Sheets: single - super king
(we manufacture sheets to fit 2 x ¾ beds joined together to make a super king)
Nortex Snag Free towels are manufactured with a unique warp knit construction, to prevent pulling or snagging. These towels are more durable than their woven counterparts, and withstand more washes than normal towels. Nortex Snag Free towels are the preferred choice by the hospitality industry due to its durability, high absorbency and soft touch.
440gm/m2 (485 gsm): Face 30x30, Hand 50x90, Bath 70x130, Bath Sheet 90x150
550g/m2 (600 gsm: Hand 50 x 90 | Bath 70 x 135 | Bath Sheet 90 x 160 cm
Bath Bats (660gsm): 50x75cm
Available in Contour Comfort and Microfibre.
The contour comfort is made up of ball fibres which have more loft and greater recovery, staying puffier for longer. The standard size has a zip and an extra 100g of fibre which allows you to make the pillow firmer if you desire.
The Microfibre pillow is soft and luxurious. It has the comfort of down and is non-allergenic.
Available in Microfibre.
The deluxe microfibre duvet inner is filled with microfibre and simulates the feeling of down. It has a 100 % downproof cotton outer, making is breathable. Feels super luxurious.
This high quality converter will add extra comfort and support to your mattresses, and can comfortably be used to convert 2 x single beds to a king size.
MATTRESS AND PILLOW PROTECTORS
Available in quilted or waterproof options.
This product is fully elasticized and fits like a fitted sheet. Highly recommended to protect your mattresses and pillows which are perfect breeding grounds for dustmites and bacteria. Adds years to your mattress and pillows. Fully washable – a must have in the hospitality industry.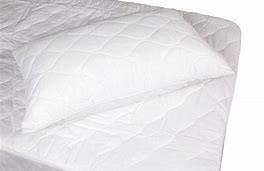 Single to king, single XL to king XL

A perfect compliment to your bed linen. An easy and effective way to decorate your bed base, without having to remove your linen or mattress.
Available in white, stone, duck egg, black, dark grey and chocolate
Single – king, queen XL and king XL
These premium quality, acrylic hotel blankets are comfortable and durable, yet soft to the touch. Our blankets are anti-bacterial and non-allergic. They wash and wear well, resisting stains and wrinkling. Available in beige only
Single/three quarter : 150x230cm
Double/queen: 200x250cm
King: 220x285cm
Quality Towelling robes available in various styles. Available in white only.
Sizes Available: small – XL large

Guest & spa slippers made from white terricloth with a textured water resistant sole. Extremely comfy! Available in open & closed toe. One size fits all.
Using this site means you accept its
terms
| Copyright © 2022 Bay Hospitality Supplies, Port Elizabeth, South Africa.
| website by